UAE National Agenda
The Royal Academy aspires to very high educational standards and achievements. We have embraced the UAE National agenda targets and focus on achieving the target. At the beginning of 2014, H.H. Sheikh Mohammed Bin Rashid Al Maktoum launched the UAE National Agenda, which includes a set of educational developments in the UAE. The educational targets cover a wide range of areas affecting the quality of education and student achievement across the different phases.
Two of the major targets are concerned with the UAE ranking in PISA (Programme for International Student Assessment) and TIMSS (Trends in Mathematical and Science Study) is a triennial international survey that aims to evaluate education systems worldwide by testing the skills and knowledge of 15-year-old students.
TIMSS (Trends in International Mathematics and Science Study), for the past 20 years has measured trends in Mathematics and Science achievement at Grade 4 and 8 respectively. It is conducted on a regular 4-year cycle. The UAE aims to be among the 20 highest-performing countries in PISA and the 15 highestperforming countries in TIMSS.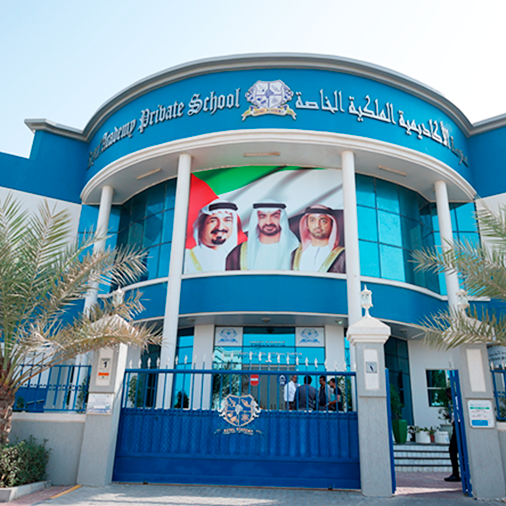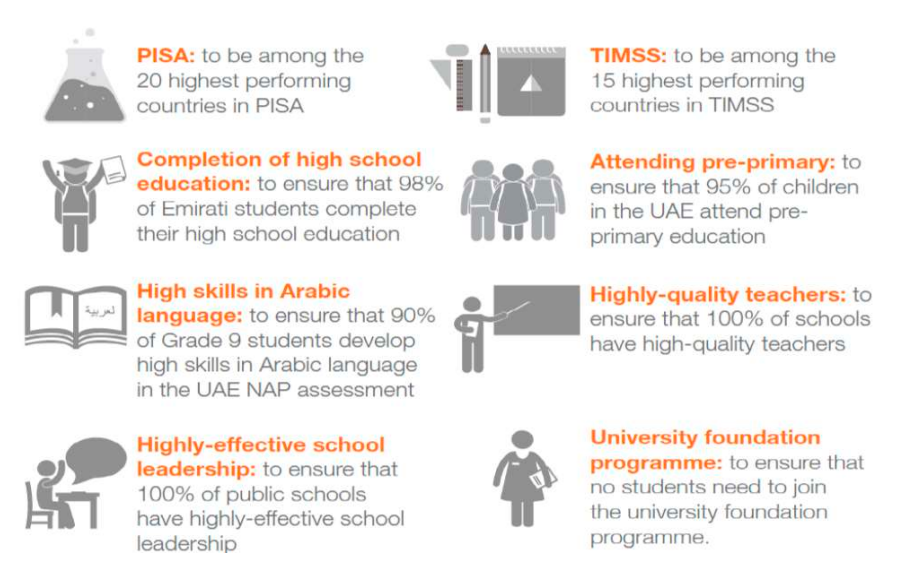 TIMSS (Trends in International Mathematics and Science Study)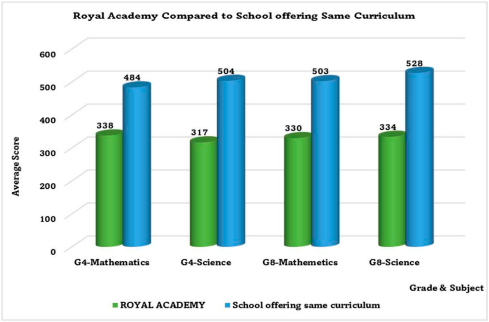 ROYAL ACADEMY -TIMSS SCORES AND TARGETS
SCORE & TARGETS
GRADE-4
GRADE-8
Maths
Science
Maths
Science
TIMSS 2015 score
338
317
330
334
TIMSS 2019 Target Score
388
367
380
384
PISA (Programme for International Student Assessment)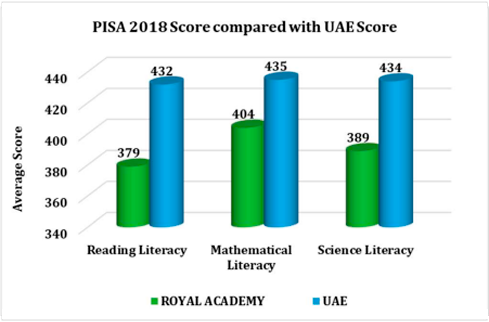 ROYAL ACADEMY-PISA SCORE AND TARGET
Score and Targets
Reading Literacy
Mathematical Literacy
Science Literacy
PISA 2018 score
379
404
389
PISA 2021 Target Score
419
444
429
To prepare schools to achieve the goals and principles of the UAE Centennial 2071 and its educational priorities, the school will be required to undertake several assessments and other related activities.
In school we have applied the following strategies to achieve our targets:
Report Analysis and action plan.
Enriching and challenging opportunities to engage students with curriculum modification.
Adaptive teaching methods/Higher order questioning.
Assessment methods and measure of progress.
Skill-based activities and modified lesson plan.